22nd Convention and Leadership Training Conference
August 11-14, 2022
Sheraton Philadelphia Downtown, in Philadelphia, PA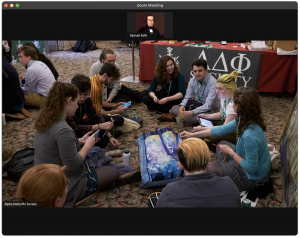 Convention registration closes July 31, 2022 at 11:59 eastern time.
Once you begin the registration process, you will see all options, including pricing options (including reduced rates for undergraduates and optional reduced rates for graduate members). While we have made every effort to minimize costs, there are fees associated with meals, social activities, and lodging. Attending business sessions or attending remotely is free for all members. Please see the FAQ for additional details.
Thursday, Aug. 11
Friday, Aug. 12
Saturday, Aug. 13
Sunday, Aug. 14

4:35-6:35–Check-in




Unstructured Activity: Convention Scavenger Hunt

8:30 – Registration and Badge Pick-Up Opens

9:00-12:30–Business, Reports, and Open Space

1:15-2:45–Lunch Break

2:00-5:30–Additional Open Space Sessions

7:00-10:00–Dinner and Social Event at Fadó

8:30 – Registration and Badge Pick-Up Opens


9:00-12:30–Business, Reports, and Open Space

12:30-2:00–Lunch Break

2:00-5:30–Additional Open Space Sessions

6:30–7:30–Cocktail Hour

7:30-12:00–Banquet & Dancing

10:00-12:00–Bagels and donuts around Logan Square
In-Person Convention is back, and in the city of siblingly love!
Convention 2022 was be split into into two parts: a single day on March 19 and August 11-14 in Philadelphia. We hope that by moving the in-person portion of Convention to the summer, and by hosting it primarily outdoors, we can have a fun, productive, and safe event.
Part 1 of Convention was Saturday, March 19th, 2022. It was held virtually, over Zoom. We focused on key reports and important business. We heard from the President and the Executive Director, and approved the Society's budget. We elected four Graduate members to serve on the Society's Board of Governors. 
Part 2 of Convention will be August 11-14, 2022 in Philadelphia, PA.
Our summer session will feel more like a typical Convention, with educational presenters, open space business sessions, and lots of social activities and time for bonding. We will spend as much time as feasible outdoors. Convention Part 2 promises to be a unique experience!
What is Convention?
Convention includes workshops, educational speakers, and plenty of space for discussion. It gives siblings from all generations the opportunity to introduce and advocate for initiatives that will change our organization for the better. A highlight of Convention is the Saturday Night Banquet, featuring an awards ceremony during which we announce the recipients of the Emerald and Pearl Award, the Society Order of the Sword and Spear, the Rising Star Award, and the Star and Crescent Award. The banquet also honors the winners of prizes from the Samuel Eells Literary and Educational Foundation Literary Competition.
Convention Safety Resources
As someone speaking in front of the whole convention or someone leading an open space, think critically about whether the content you are presenting could contain upsetting information or details and if so, preface the content with a content warning. If at any point during business or open space, you feel uncomfortable or need a mental break, please feel free to look on your phone or your computer, or step out of the room for any length of time.  No one is going to assume or judge anyone for leaving, there are any number of reasons you could be doing so.  This also applies if you are a delegate, just inform your alternate delegate that you are leaving.
RAINN Hotline: 800.656.HOPE (4673) and https://hotline.rainn.org
Chat online with a trained staff member who can provide you confidential crisis support.