Start a Chapter of the Alpha Delta Phi Society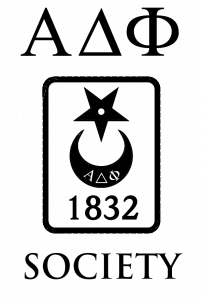 Unsatisfied with the Greek options at your school?
Looking for a different kind of Greek experience?
Want to be part of a national organization that fosters connections and friendships beyond your campus and college years?
The Alpha Delta Phi Society is a gender-inclusive literary society dedicated to developing character, scholarship, and enduring friendships. Our mission is to bring together a diverse and supportive community, foster intellectual and personal growth, and cultivate passionate individuals of good character and integrity.
As a living, breathing organization rooted in a tradition of shared values, we proudly redefine what it means to be a Greek-letter organization.
We are actively looking to expand to new colleges and universities. If you are interested in getting information about forming a new chapter of the Alpha Delta Phi Society, e-mail our Director of New Chapter Development, Max Morant, at new-chapters@adps.org.
I enjoy having a community of people I trust. I feel that it provides an environment for communal activities and camaraderie that doesn't exist anywhere else on campus.
Benefits to Joining the Alpha Delta Phi Society
—We sponsor an Annual Literary Competition among our chapters across the nation with cash prizes of up to $1,000.
—In cooperation with the Samuel Eells Literary and Educational Foundation, Inc., we conduct the Seward Scholarship Program, which makes grants of varying amounts directly to the students for aid in their academic pursuits.
—We encourage, promote, and conduct training programs on a variety of topical issues: risk management, alcohol awareness, consent and power dynamics, substance abuse, sexual harassment, and other similarly important subjects.
—New member education is designed to be informative and fun, because physical and mental hazing is not tolerated by Alpha Delta Phi Society.